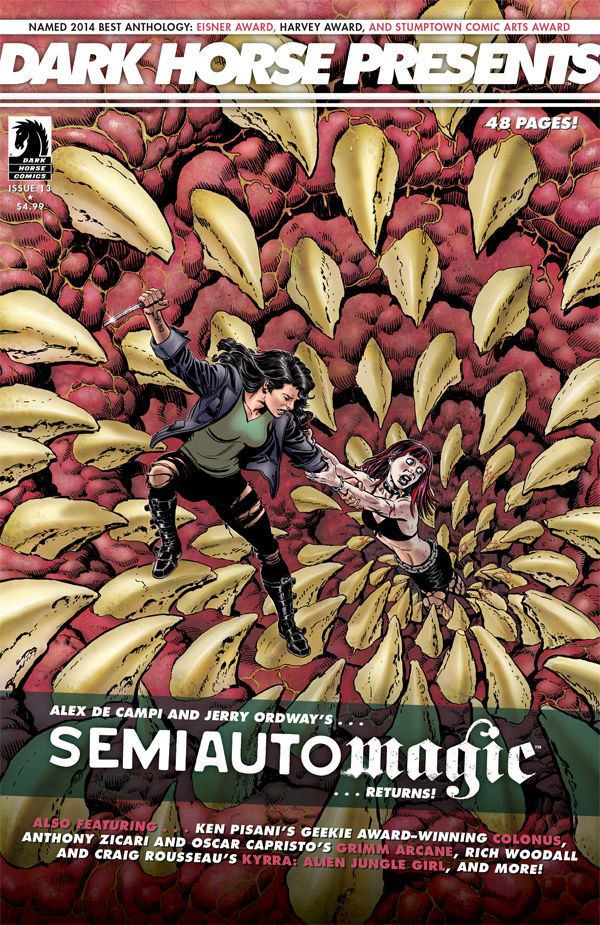 Keith and Chris settled into this interview with Jerry Ordway so quickly we actually join it in progress and it takes a couple of minutes to announce the name of the show!
Jerry Ordway has been a favorite comic creator of the We Talk team for decades. With his new Kickstarter running, it was a perfect opportunity to talk about his career and his current serialized series Semiautomagic.
Jerry and writer Alex De Campi have been creating chapters of this horror comic for the pages of Dark Horse Comics Presents since 2014. Now you can get a trade paperback and more!
Semiautomagic follows the highs and lows (mostly lows) of occult investigator Alice Creed, an average girl from a bad part of town who ended up in the wrong place at the wrong time. A decade after the wrong turn that changed her life, she is who you call when magic ends up in murder.
But before we get to Semiautomagic, Jerry has a ton of stories to share from his time writing and drawing The Adventures of Superman. From the earliest days co-plotting with John Byrne to his decision to move on at The Death of Superman.
Jerry was part of the most controversial Superman story of all time, the Supergirl Saga! Also called "The Pocket Universe Story," this three part story had Superman on an earth created by the Time Trapper that developed with only one hero, Superboy. The 1988 story culminated in Superman choosing to execute 3 Kryptonian villains rather than risk them getting to his earth and destroying it.
Does Superman kill? If he does, what happens next? The Superman creators were asking that question 25 years before Man of Steel hit the screen!
We also cover a wide range of Jerry Ordway's work including Power of Shazam, Infinity Inc, All Star Squadron, and Wildstar!
And we find out Jerry is quite a fan of the DC TV shows, and has some thoughts on the way Supergirl has been developing a character he co-created, Cat Grant.
Sit back, bit into that Big Belly Burger, and enjoy 100 minutes of the best comic talk going!
The Kickstarter for Semiautomagic runs to February 29, 2016. Support it now!
Three great ways to subscribe to We Talk Comics now.  Try us on iTunes. For those of you looking for an alternative we're now available on Stitcher Radio. You can also check the show out on the versatile TuneIn radio.
Join the We Talk Conversation on Twitter @wetalkpodcasts. Plus, give us a like now on Facebook.
And check out Panel One to keep up to date about Calgary Comic creators and their friends.